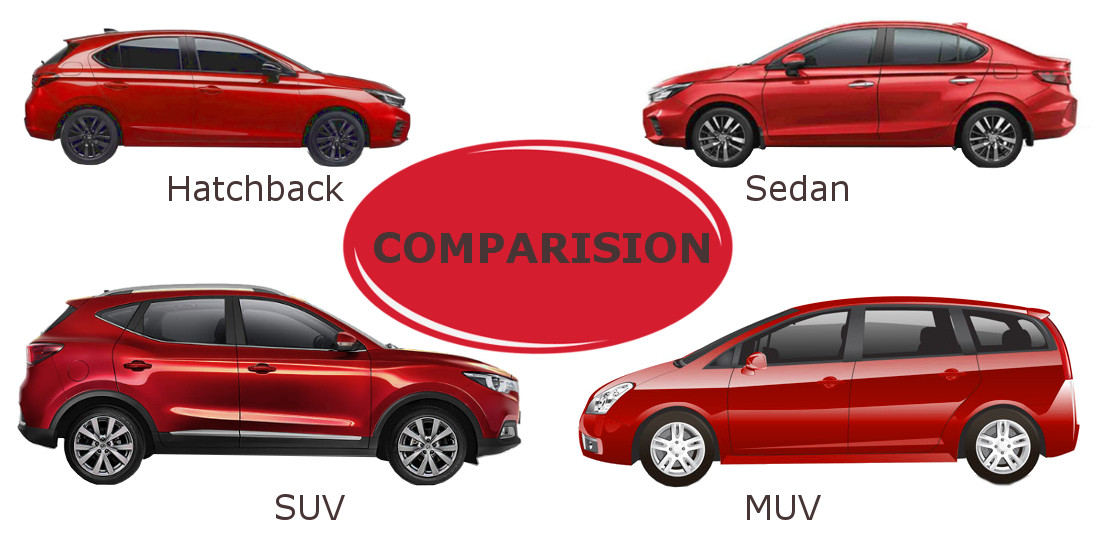 Sedan Or Hatchback Or SUV or MUV, which car type is best for you?
Which car to buy? Is nowadays a million dollar question. A range of variation in car size and fuel options are available in the car market today. 
We will help you figure out how to choose the type of car for your needs.
Car Type
Before you go ahead, first you should understand the car type by its body size. Every type of car is categorized into compact (small), mid or full sized.
Choose your car type according to your requirements. You should understand which car has what type of characteristics.
Petrol/diesel fueled selection of car will purely be decided on how much you will be driving your car.
Low priced fuel car is costly itself, diesel cars are examples of the low cost fuel type.
When the cost of fuel is high like on a petrol variant car, such a car is a bit cheaper than the diesel cars. (petrol cars are cheaper than diesel cars).
Electric cars are most fuel efficient, i.e. no fossil fuel required for the car. It runs on charged batteries.
Electric vehicles are not popular.
CNG car fitment is done in petrol cars. It's even cheaper than diesel, but a CNG tank will take away the boot space of your car (also reduces overall car power).
If your monthly use of a car is less than 1000 Km. you should choose a petrol car.  Buying a diesel car will be a wise decision if more than the 1000Kms travelling in a month.
If CNG station is available near your area, then only go for CNG installment in your car.

Size of Family also a prime factor when you decide to buy a car.Joint family and Nuclear family will certainly choose the car size to accommodate their family comfortably.
Purpose of a car is also important when you are buying a car.

Car for Off-Road
City Driving
Highway driving
Car with Pickup goods
When deciding the purpose of your car you must understand the car types.
Hatchback cars

: It has two compartments in car, with relatively smaller in body size, engine as well space also. Boot space of car is covered with the car main space.
Variety of cars are available in this segment, like micro, small and premium hatchbacks.
Generally termed as a city car where it's turning radius is low and easy to park because of its size. Best for in city use.
Sedan:

Is type of car widely accepted by car owners, Separate boot space than Hatchbacks, 3 segment in car and 4 door car is attributes of a sedan car. Same as a hatchback it is fuel efficient Because of its body shape and low ground clearance it is more stable on highways at high speed.
Sedan has a number of body options like small, midsize, large size and luxury sedan.
SUVs:

Sports Utility Vehicle, name suggests the purpose of the vehicle. These cars made for rough driving, off road, tracking on hills etc. Build very tough to solve the off road driving problems. Generally big body size, Big SUVs mostly have 4-wheel drive technology, which are not fuel efficient.
Characteristics and Features of SUVs
Huge in size compared to Sedan

Ground clearance of SUV is higher than other cars

Body shape is different and sturdy

SUVs are Not Fuel efficient

Mostly used in the city, but not convenient to park because of its big size and high turning radius. 




MUVs:

Multi Utility Vehicle generally termed as Wagon or Van. MUVs are favorite in large families. Shape of the vehicle is like a small bus, with 5 doors. Seat styling is different than other car types. Some cars in the MUV segment are equipped with sliding doors for passengers. It has better boot space than other cars. 
Some vans are made to carry goods which requires delicate handling when travelling.